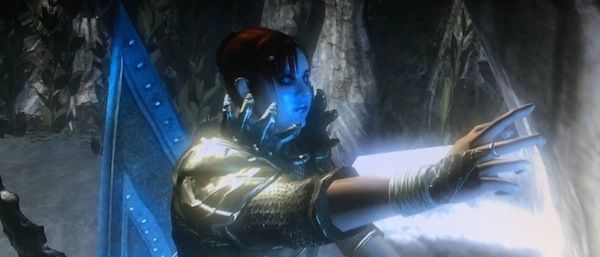 What is "Return to the Nexus"? It's the second annual community event relating to Demon's Souls (a game that motivated me to buy a PS3 in 2009) and quote-on-quote "spiritual re-release". In short, on October 26, players play the game anew as if they were playing it for the first time; or newcomers who played it for the first time. That along with taking part in its online mode ala co-op, invasions, pvp, etc. Jointed formed by Peeve Peeverson, the Soulbrandt, and other members of community, I missed out on last year's and was relieved the event would be annually henceforth; that and it's ongoing. Having played my character from start to finish, I managed to beat the game within 15 hours with a Soul Level of 70. With that, here are some highlights from yours truly.
(Info on this is also available on the Demon's Souls reddit page.)
1-2 TOWER KNIGHT
I summoned a blue player just for the heck of it when facing this boss. Both of us went to opposite sides to kill the Boletarian soldiers, then worked our way down to the boss itself. I did the final blow by hitting his, "undergarments". :3
2-1 ARMOR SPIDER
As soon as I killed the crystal lizard to claim the loot near Stonefang Tunnel's first entrance, a player invaded me but managed to kill him/her/it/whatever within seconds. I then summoned two blues and we cleaned house before reaching the boss. It's one of the few times I actually fought it melee and it made me realize that doing that bow/arrow exploit is a pointless on a game-breaking scale. (Which there is a lot of broken glitches and exploits which can easily be pulled off, which I refrained doing so in this event with one minor exception.)
3-2 LATRIA, MANEATER
First of all, Tower of Latria is my personal favorite world in Demon's Souls. Despite that, traversing to the boss while be invaded was a bleak reminder it's one of those invasion spots any human player dreads to encounter; that and how overpowered the Firestorm ability is which I stopped using against invaders afterward. Maneater, being my least favorite boss in the game, was and still is a duo I still am unable to understand pattern-wise which is why I used Firestorm on them just to get it over with.
4-1 ADJUDICATOR
Being my personal favorite highlight, I was one of the two blues summoned by Yukaslegion, a well-known player/PvPer within the Souls community. Having watched and switching between Twitch channels of the game that day, him going to Storms was at the right timing & I set my summon sign without hesitation. With the three of us taking the shortcut just for the heck of it, we reached the boss and finished it off in seconds. I tweeted said highlight shortly after.
VALLEY OF DEFILEMENT
Being my least favorite world in Demon's Souls, it was the very first time I completed the world and its bosses without dying. That and I was in human form the majority of the time too despite lack of co-op summons and player invasions. Eh, whatever.
ENDGAME (w/ video)
I decided to record me fighting the final boss in regards to the community event. Lacking a tripod (I really need to invest in one these days, sigh), I spent roughly 20-30 minutes setting up my iPad to match with the TV without any gamma issues (unlike my Demon's Souls 1-1 speedrun I posted several months ago). Of course I had to spent nearly an hour editing/fixing the upload afterward due to that stupid "motion angle" thing re: YouTube. Regardless, it was worth sharing.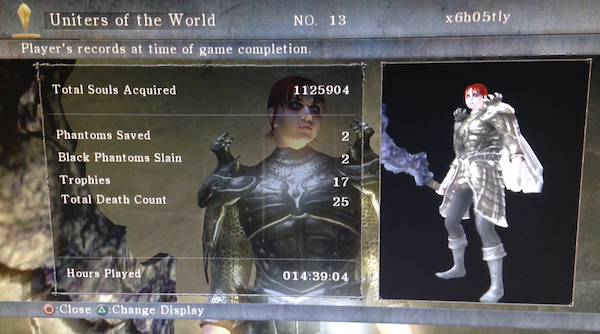 Until next time!
Dan